FENS introduces Lab Safety Video and Poster Design Competition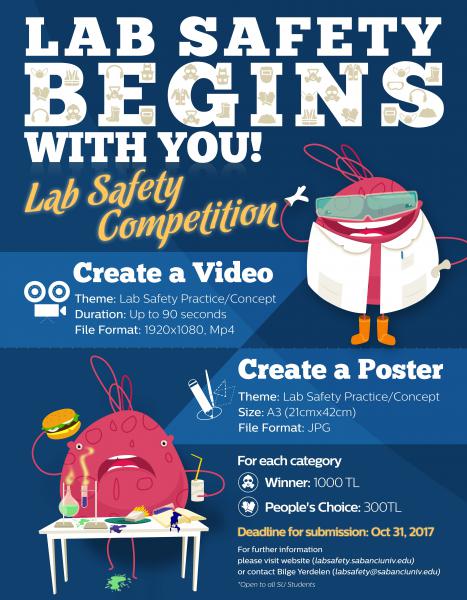 The purpose of the competitions is to raise the health & safety awareness and promote safety culture.
We want to see how you engage in safe behavior in laboratories.
Send us your video or poster and get the chance to be selected for the prizes. The winners will be announced on November 15th, Wednesday at the Lab Safety Event.
Video format:
Duration: up to 90 seconds
File format: 1920x1080 mp4
Poster format:
Size: A3 (21cmx42cm)
File format: JPG
Rules and Guidelines
All submissions must address the basic safety rules found here.
Open to all SU students (We encourage students of different faculties working together).
Submissions can be made individually or as a team.
The videos and posters will be judged by the jury based on relevance and creativity.
Each participant or group may submit one entry.
Schedule:
Registration Opens: September 18th, 2017
Registration Closes: October 31st, 2017
Judging: November 11st, 2017
Awards Ceremony: November 15th, 2017
Application:
Please use the application form for participation.
Prizes:
For each category:
Winner: 1000TL
People's choice: 300TL
Contact
For information and questions please contact Bilge Yerdelen (labsafety@sabanciuniv.edu).